Nearest Places to Visit From Yangon
Letkokon Beach
It is the nearest beach from Yangon, a distance of just under three hours drive, after ferry-crossing the Hlaing river, i.e Yangon river. Letkokon village and Ywa Thit Kone village just a kilometre further away are small fishing villages. Fresh and delicious seafood and juicy tropical fruit of the season can be enjoyed to your contentment. A Sunbath under the shady coconut groves sipping tender coconut milk under the sunny sky would be a pleasant time to pass. The one and only hotel, the "Letkokon Beach Hotel" with a number of Chalet type bungalows is located at the end of the driveway leading from the beach. Poor road, electricity supply, tele-coms, accommodation, fresh clean water, modern conveniences and other facilities are limited. Over a century old monastery of teak logs and planks and another about half a century old are in the vicinity of Ywa Thit Kone. The Ayeyarwady River, which branches into several rivulets in the Delta Region before entering into the sea deposits fertile silt to form the Delta, where nutrient and fragrant rice cultivation, thrives on the rich soil. During the monsoon and highwaters the sea is rather muddy. The Chaung Tha Beach further west, the Kan Thar Yar Beach and the Ngapali Beach in the north-west on the Rakhine Coast where the sea water is clear for swimming and surfing. Facilities are better.
Bago Attractions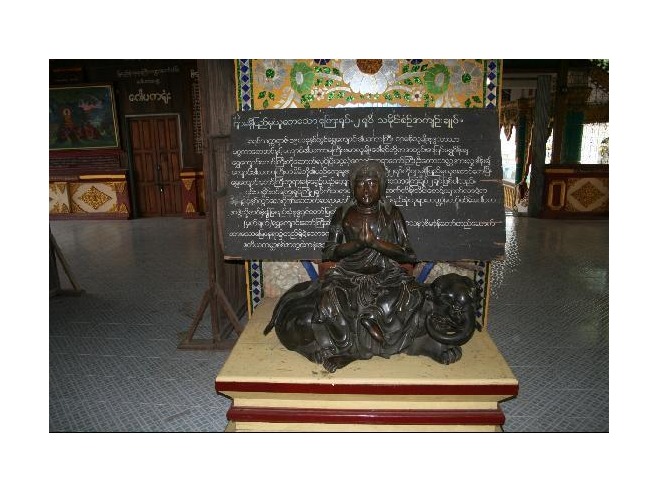 Though not as well known as Shwesandaw, this is the most interesting of the three Myanmar famous zedi in town. A brick pahto beneath the stupa features glass mosaic arches, paintings taungoo Myanmar kings and a huge, bronze and silver-faced sitting Buddha in royal attire. The image is surrounded by planet Buddhas for specific planets, corresponding to the days of the week, andan arrangement usually reserved for stupas.
---
About 8km east of the Aung San statue in the neighbouring Myanmar village of Hmawza, this Myanmar ancient site known to Pali-Sanskrit scholars as Sri Ksetra is an enormous Pyu city that ruled in the area from the 5th to 9th centuries AD. Local legend links its origin to the mythical Myanmar King Dattabaung, who supposedly worked with ogres and other Myanmar supernatural creatures to build the "magical city" in 443BC.
---
This towering Myanmar pagoda stands on the road to Thayekhittaya, about 1.5km east of the Myanmar bus station in Pyay. Payagyi Paya served as one of the four corners that bounded that Myanmar ancient town, its breasts like structure is slightly swollen, with some vegetation growing out of cracks in the exposed bricks. Three terraces encircle it from its base; "ladies" are not allowed on the upper one.
---
Shwesandaw Paya is set on top a hill in the centre of Pyay Myanmar, the stunning Shwedandaw paya is not only Pyay's biggest point of interest, but one of the country's biggest Buddhist pilgrimage sites in Myanmar. Just over 1m taller than the Myanmar main zedi at Yangon's Shwedagon call it Shwe-D Myanmar Shwesandaw stupa follows the classic Myanmar Burma design seen at Bagan's Shwezigon.
---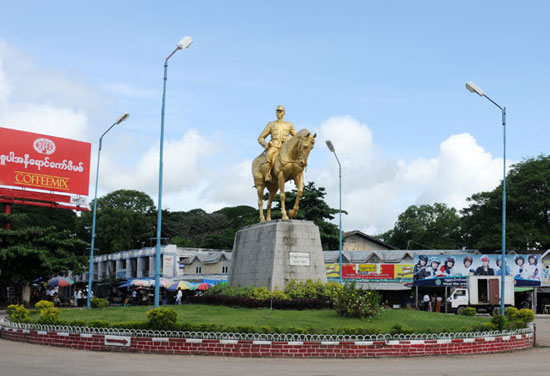 In Myanmar, Pyay is quiet, stupa-studded Myanmar Ayeyarwaddy river side town, 294km north of Yangon Myanmar. Pyay is at the cross roads for bumpy bus rides west to Ngapali Beach in Myanmar, and less bumpy bus rides north to Bagan main Myanmar tourist place. Over the years it's practically seen more archaeologists than travelers, due to the much-excavated ancient Pyu capital of Myanmar Thayekhittaya, 8km east.
---
A little beyond Myanmar Mahazedi, this Myanmar Shwegugale zedi has dark go around the circumference of the cylindrical superstructure. The monument dates to 1494 and the reign of Myanmar king Byinnya Yan. Inside are 64 seated Myanmar Buddha figures.
---
This Sacred hall of ordination was originally constructed in 1476 by Myanmar King Dhammazedi, the famous alchemist Myanmar king and son of Myanmar Queen Shinsawpu. It stands beside the road enroute from the triain station to the shwethalyaung in Myanmar Bago.
---
There's something uncannily impressive about these four seated Myanmar Buddhas with regal gazes that seem to see all, about 1.5 km out of bago just off the Yangon road. Built in 1476 by Myanmar King Dhammazedi, it consists of four 30 m high sitting Myanmar Buddhas placed back to back around a huge, square pillar.
---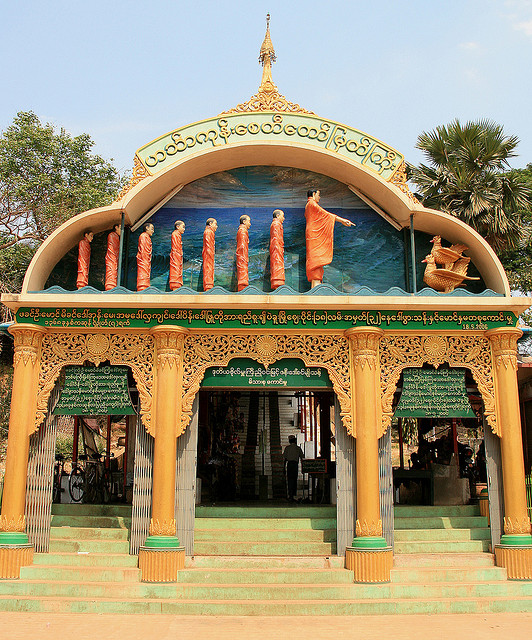 Located behind the Myanmar Bago Shwemawdaw pagoda, this shrine has good views over Myanmar Bago town from the roofed platform on the hilltop. According to Myanmar legend, this Myanmar Bago pagoda was the one point rising from the sea when the mythological bird landed here. A stature of the bird, looking rather like the figures on opium weights, tops the hill.
---
Kanbawzathadi Palace and Museum
The original site of Hanthawady, which surrounded a former Mon place, was excavated just south of the huge shwemawdaw Paya in Myanmar Bago. Walled in the Mon style, the square city measured 1.8 km along each side and has 20 gates. The palace compound in the centre, known as Kanbawzathadi, housed Myanmar King Bayinnaung from 1553 to 1599 and covered 82 hectares. About 26 hectares of this area have been excavated.
---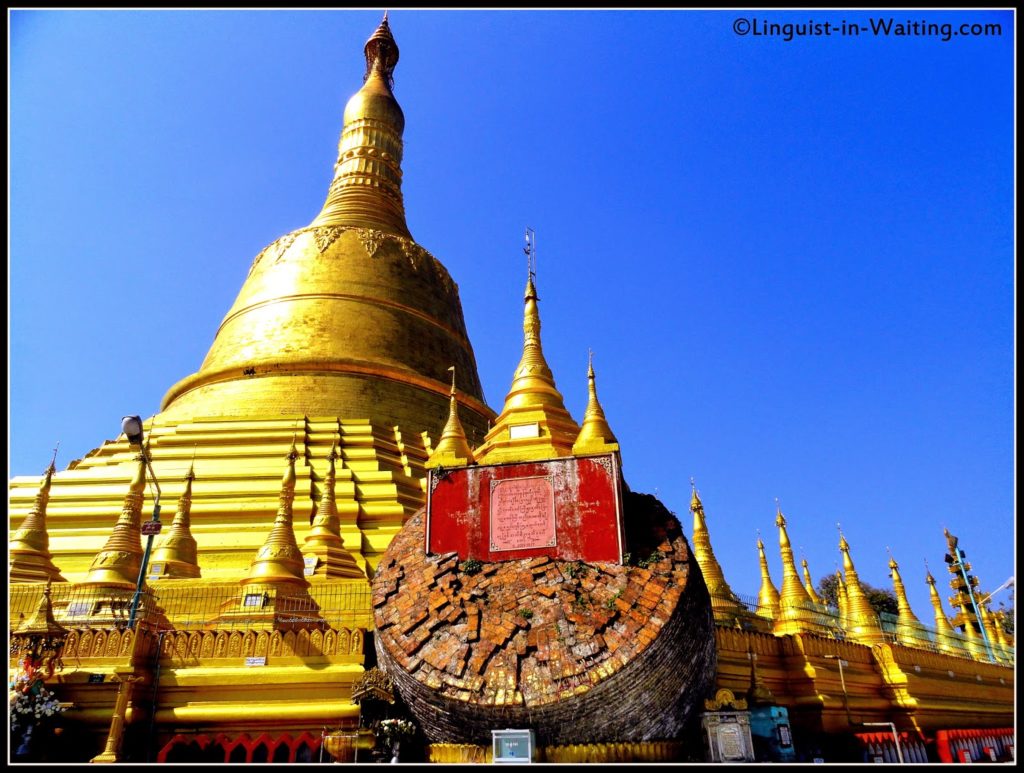 Shwemawdaw Paya in Myanmar stands northeast of Myanmar train station. You can't miss this Myanmar stupa, as its height of 114 m dominates Bago town. The Shwemawdaw Myanmar paya is said to be over 1000 years old and was originally build by the Mon King to the height os 23m to enshrine two hairs of Buddha. In 825 Myanmar Shwemawdaw Paya was raised to 25m and then to 27m in 840.
---
This Myanmar reclining Buddha is so big that from looking up from the bottom steps it's impossible to determine exactly what's ahead of you. The golden slap you see is only the torso. Measuring 55 m long and 16 m high and Myanmar Shwethalyaung Pagoda is 9 m longer than the reclining Buddha at Wat Pho in Bangkok, but still 19 m short of the Myanmar Buddha in Dawei. You'll find the Shwethalyaung to the west of the Yangon Bago…
 Win Ka Baw Elephant Camp
Duration:7 HOURS (Incl. pick up & drop off)
Coverage:Yangon City Area
Pick Up/Drop Off Point: Hotel/Hotel(Yangon)
6:00 Am pick up at your hotel in Yangon. Morning at 6:00 Am direct drive for one and half hour to Win Ka Baw Elephant camp which is situated in the Bago Yoma mountain range, once was used as an industrial area for the state-run Myanmar Timber Enterprise and changed into elephant conservation camp to promote the Myanmar tourism, where you can gaze how elephants are being conserved, taken care, treated and their performance.
Moe Yun Gyi Wetland
At about 10:30 proceed to Moe Yun gyi wetland which is a vital shelter for both resident and migratory waterfowls. A census at Moe Yun Gyi revealed that there are 125 species of water birds including 70 species of migrants. Where you can have opportunities for study and recreation: watching resident and migratory water birds and enjoyment of natural view near Yangon, conducting research activities on wetland ecosystem, enjoying wetland environment by boat.
---
---