Disaster-prone Myanmar presses alert button as monsoon looms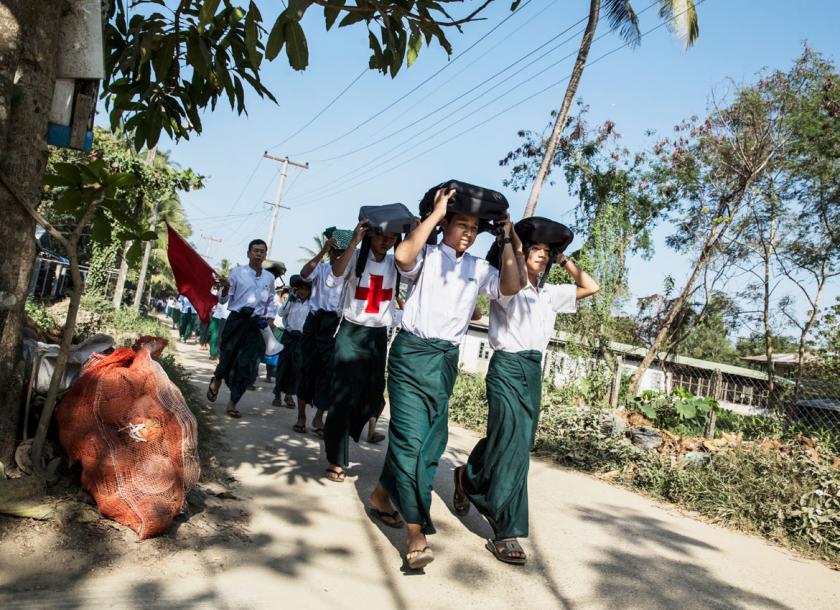 Vice President U Henry Van Thio is a possessed man, running here and there, to check on the preparations of local governments in response to the perennial threats of the monsoon, which is just around the corner. The vice president, who is also chairman of the National Natural Disaster Management Committee, assured that he will do all he can to utilise the power of the government to mitigate the impact of the monsoon on townfolks, especially in the central plains.
On Wednesday, U Henry Van Thio observed the construction of a riverbank protection wall along the Myitthar River between Kalay and Kalaywa townships in Sagaing Region. The wall is about 5000 feet long, cost an estimated K2.2 billion (US$1.62 million), and is about 60 percent completed. A day earlier, the vice president convened a National Natural Disaster Management Committee meeting in Nay Pyi Taw to check on the preparations being made by agencies involved in mitigating the effects of a disaster.
U Henry Van Thio urged the members of the committee to discuss early preventive measures for both the approaching rainy season and unpredictable earthquakes, according to a report by the state-run news agency. The vice president urged the committee to be constantly alert for natural disaster management, the report added. Myanmar is one of the most disaster-prone countries in the region, with the country losing an average three percent of its GDP annually due to natural disasters. In a country report by the Japan International Cooperation Agency (JICA) three years ago, it noted that "cyclones, floods, tsunamis and earthquakes have a pronounced impact on Myanmar." The study cited Cyclone Nargis, which struck the country in May 2008 and left a trail of destruction, including the deaths over 140,000 people and millions more homeless.
It said that many floods are caused by storms from the southwest monsoons during July to October, with the country's central plains region of Mandalay and surrounding areas, as well as the coastal areas, especially hard hit. Aside from floods, Myanmar is also prone to earthquakes as "it lies in one of the two main earthquake belts of the world, known as the Alpine-Himalayan Belt." The study noted that 16 earthquakes with magnitudes 7.0 or higher have occurred over the past 170 years since 1839.
At Tuesday's meeting with disaster relief officials, U Henry Van Thio warned about strong winds, storms, cyclones, heavy rain, lightning strikes, hail, floods, flash floods, and landslides during the monsoons. He urged agencies to take early preventive measures as soon as possible. The vice president also emphasised the need to prepare emergency response strategies and resettlement plans, including construction of houses in areas least likely to be affected by natural disasters, "as well as pre-planning and cooperating with relevant ministries to reinstate transportation, rebuild roads and schools, and administer healthcare immediately after the effects of a natural disaster."
Aside from floods, U Henry Van Thio underscored the need to keep people "properly informed and ready" for the unpredictable earthquakes. He said the National Natural Disaster Management Committee should discuss strengthening or planning standard operating procedures for earthquakes in ministries, adding that the public needed greater awareness of earthquakes and their effects. Myanmar has sought financial assistance from international donors and technology institutions for losses and damage due to climate change, as well as for projects aimed at mitigating the effects of natural disasters.
According to the Global Climate Risk Index 2018 report, less developed countries, including Myanmar, are more affected than industrialised countries. Last year, the World Bank approved US$116 million (K156.75 billion) for the Myanmar Southeast Asia Disaster Risk Management Project, aimed at financing efforts to reduce the impact of flooding, and improve the resilience of selected public facilities against earthquakes in Yangon. The project will also enhance the union government's capacity to finance disaster response to emergencies across the country, according to a World Bank statement.
It is expected to help the Ministry of Planning and Finance develop disaster risk financing instruments, reduce the financial costs of future disasters, and improve the capacity to manage and finance the response to possible future disasters.
Personalised Football Shirts United Kingdom Cheap Football Shirts shop:https://www.football-shirtssale.com/ Printing
Spoiler: Most of them https://www.football-shirtssale.com/ are big purple shirts. You'll additionally be capable of customise your staff soccer shirts by printing issues like corporate sponsors, names, logos and more, so your team look skilled from the minute they step out the buy cheap football kits changing room. Fabricated from sturdy fabrics with ventilation in mind our soccer shirts will maintain your group wanting great game after game. Offering an athletic match for a sculpted look, the VO2 Performance Match Football Shirt is the Real Madrid Home Football Shirt 2018/2019 professional selection for striking workforce put on.
Don't let your video games go you Real Madrid 3rd Away Football Shirt 2018/2019 by without your custom Football t-shirts & customized shirts. Among such one is Customized Glam Woman model that present big selection of options for ladies football T-shirts, customized women football shirts and hoodies Real Madrid Away Football Shirt 2018/2019 even. SOCCER followers will have the ability to create their own customized kits at Nike Town. We now have a huge number of cheap Barcelona football shirts colors and styles with totally different materials and variations in football shirts, so take a second to seek out what most Barcelona Home Football Shirt 2018/2019 closely fits your group needs and specs.
We create the soccer designs. The design was printed completely Barcelona Away Football Shirt 2018/2019 on our shirts. With four totally different custom football shirt options and Atlético de Madrid football shirts a full range of junior and grownup sizes, VO2 have all the things it's worthwhile to create fantastic looking kits for every type of the beautiful sport. Our workforce can even assist with your football shirts and different Atlético de Madrid Home Football Shirt 2018/2019 custom attire with FREE design help.
We're happy with the amount of options you've at your cheap Bayern Munich football shirts disposal with our 'design your own' instrument, however we're additionally dedicated to providing quality grownup football uniforms which are each snug and durable. I've tried factories in each Thailand cheap premier league football kits and China to manufacture sportswear, fitness clothing and soccer shirts for my on-line cheap arsenal shirt store and profitable brand.
---
---