9 of the best burmese street foods in Yangon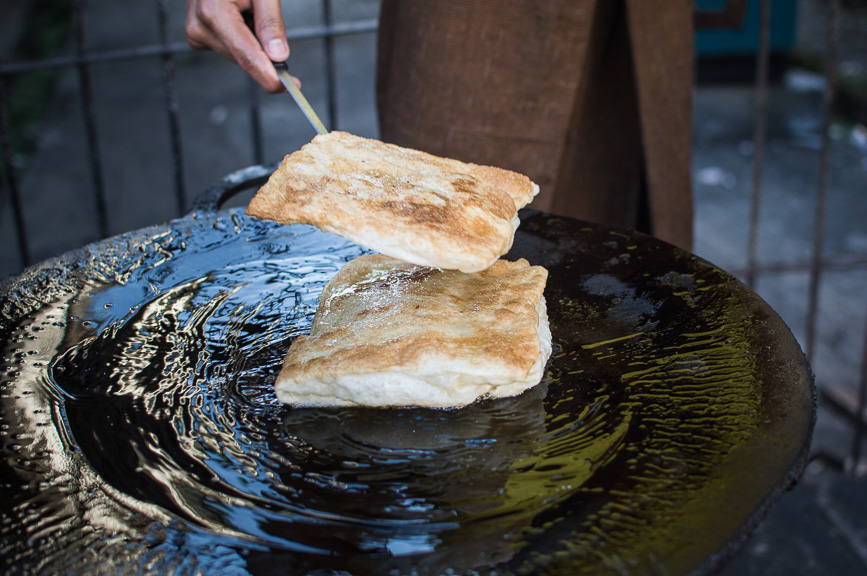 One of the best ways to get a taste (literally) of a city is through exploring its food sold on the street, where stores specialise in 1–2 dishes and strive to make the best of them. While it's often arguable if street food nowadays is really the go-to food amongst locals — for instance pasar malams in Singapore or the night markets in Bangkok — you can be sure that the street food scene in Yangon is as local as it gets.
With influences from the Chinese, Indian, Thai and Vietnamese, the cuisine of the Burmese truly is diverse. A spot for daily breakfast, a quick afternoon snack or something for the sweet tooth, you can find these local treats in pushcart stores scattered across Yangon.
Starting from the Maha Bandoola Park right beside the iconic Sule Pagoda, we took on a street snack tour with local guides who showed us some of the top 9 local favourites on the streets of Yangon, Myanmar. Be sure to check these out next time you're in town!
---
1) Samosa Salad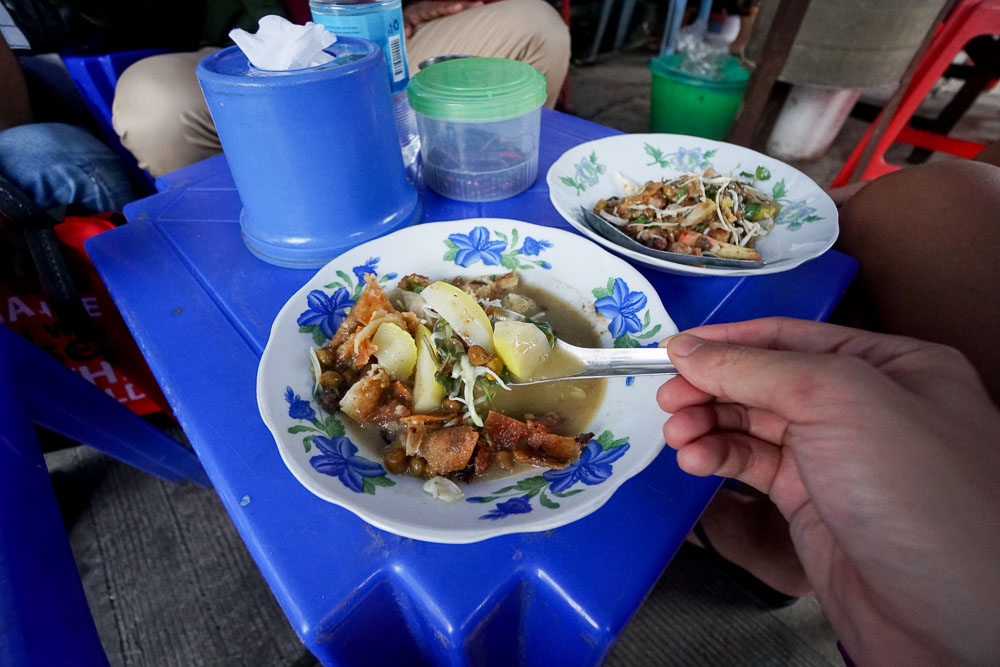 Set up at the Merchant Road side of the park is a store with short plastic seats where you can hide from the rain or sun to enjoy this quick afternoon snack. Fried samosas cut into neat strips mixed with fried chickpeas, cabbage and potato, topped with a warm savoury broth that completes the dish. If you're a fan of spicy food, be sure to ask for chilli flakes!
---
2) Street Pancakes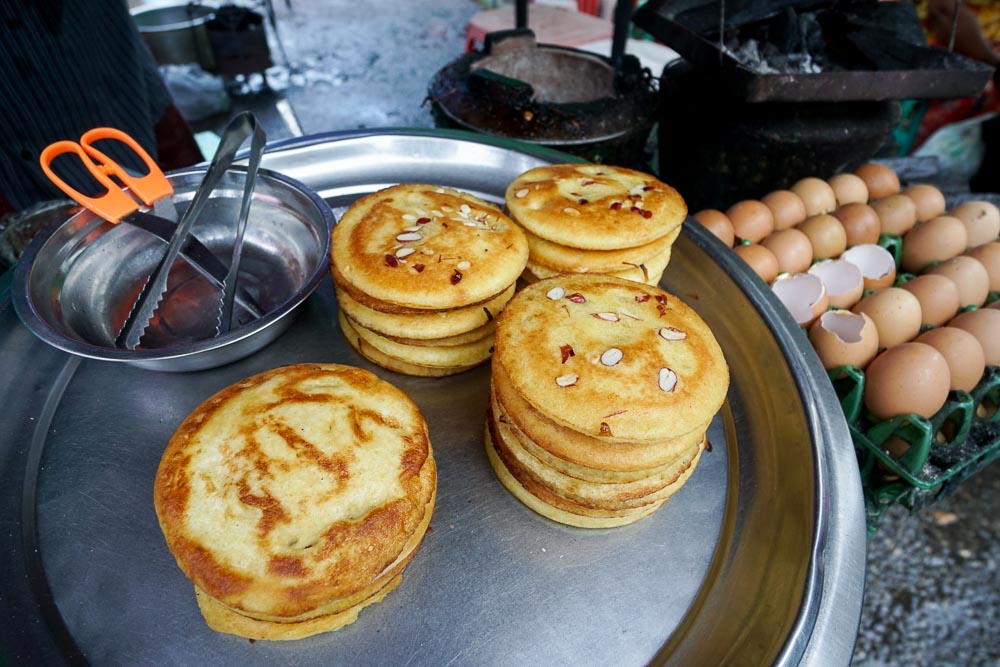 A short walk to the other side of Sule Pagoda on the small street between Sule Pagoda road and 33rd street features a row of mobile street vendors that obviously know their craft. Our favourite of the lot was this stall selling pancakes which are in fact one of the best in Yangon! It's everything you've ever dreamed a pancake would be and more — freshly cooked, it's fluffy in the middle and slightly crispy on the sides. Choose to have it with an extra egg atop or sprinkled with nuts, or try both for just K500 (S$0.50).
---
3) Dosa sandwich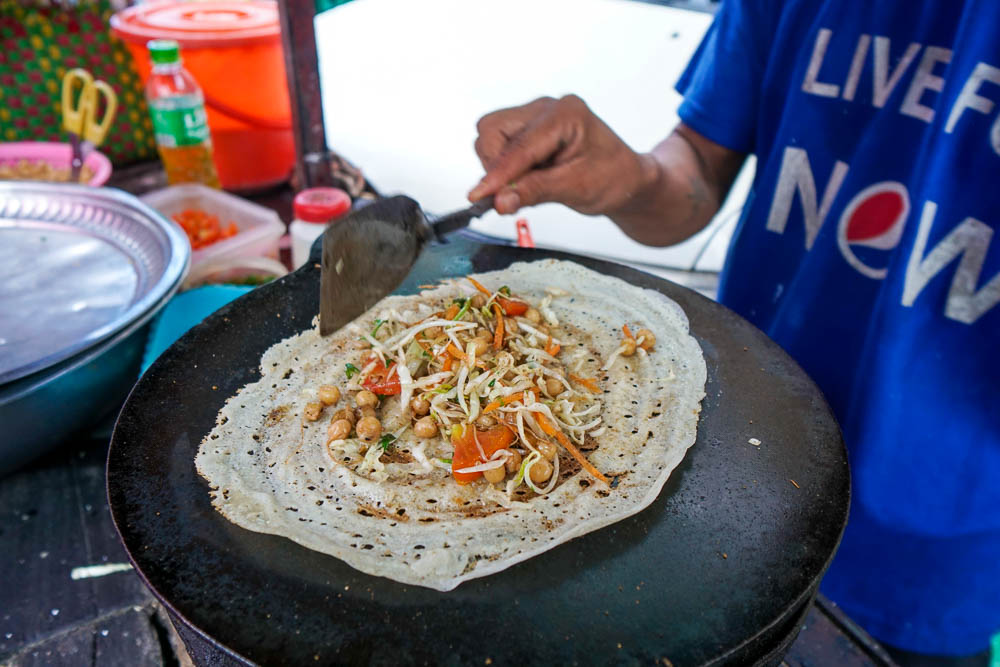 Just beside the Pancake push cart is what our guide called the "Gangster sandwich" — A thin and crispy Indian styled pancake with batter made of lentils. The street version of this dosa is served wrapped around cabbage, chickpeas and a unique blend of sweet and savoury sauces, chopped into bite-sized pieces you can savour in one mouth. Probably our second favourite after the pancakes!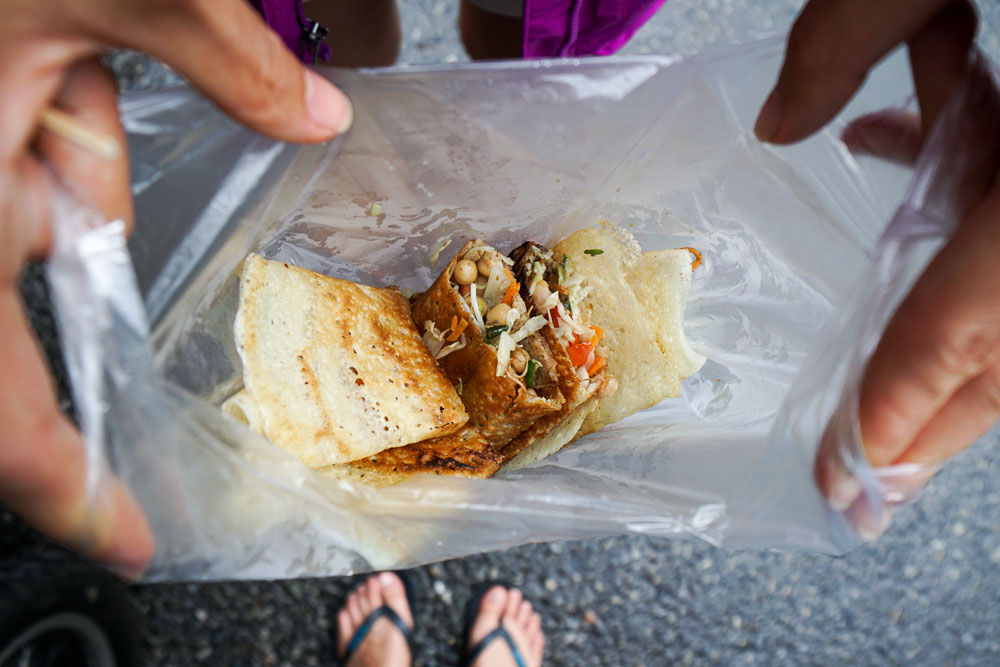 ---
4) Mont Lin Ma Yar — Quail Egg Snack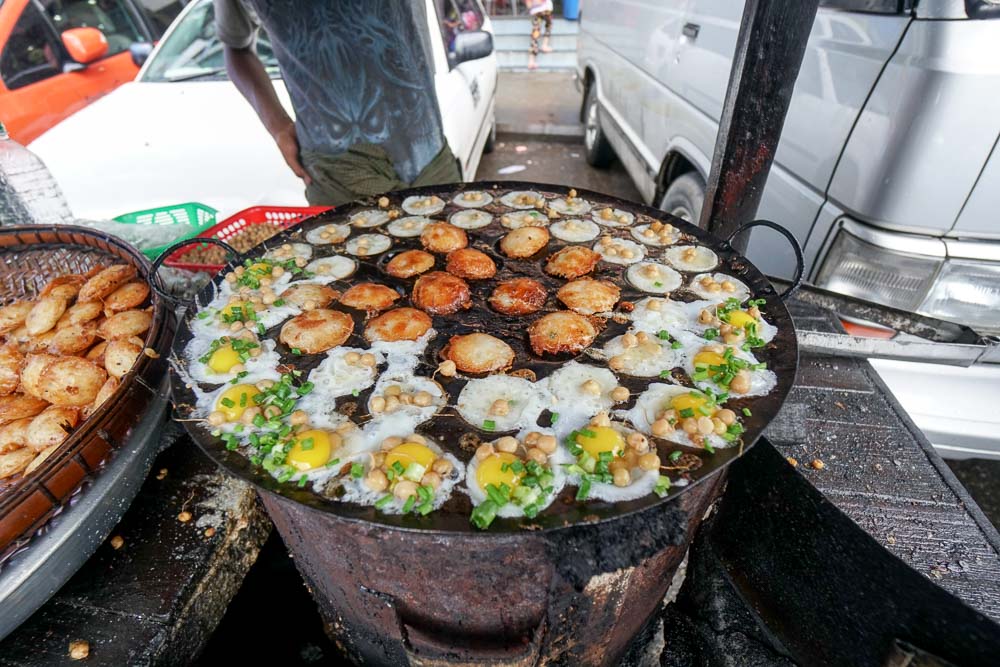 Affectionately translated as the couple or husband and wife snack, this popular dish is made of 2 sides joined into a round bite-sized ball of quail eggs, chickpeas and a dash of pepper. You can find it sold in 10s for K400-500 around the city, with variations of toppings like tomatoes, chickpeas or plain — all of which were equally joyful to snack on.
---
5) Mohinga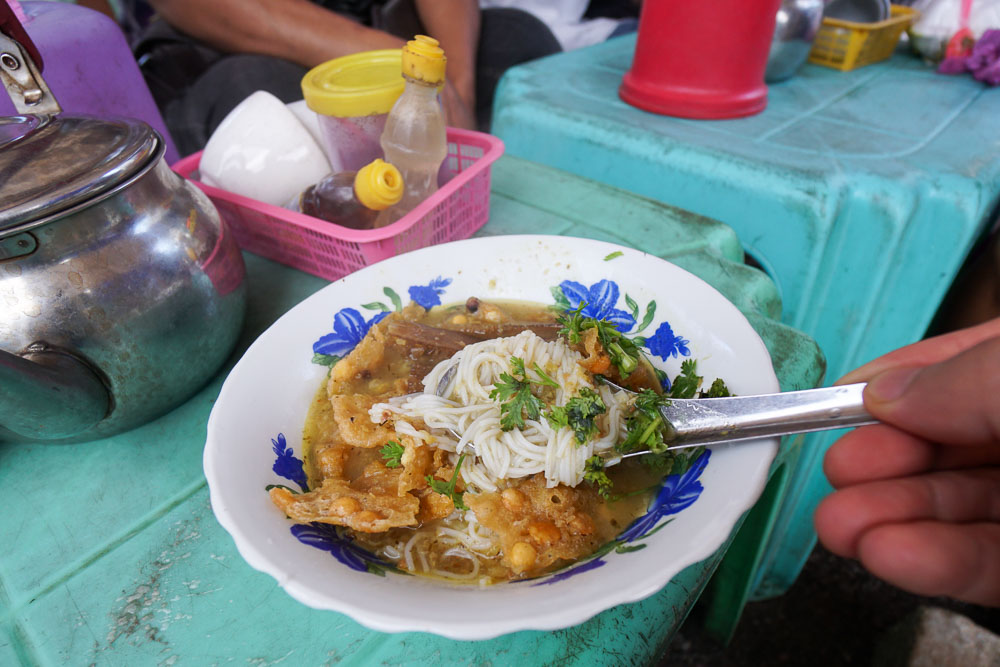 A signature Burmese breakfast dish, you can find a bowl of mohinga all over Myanmar. This rice-noodle dish is served in a hearty fish broth, thickened by crushed chickpeas and other local spices like turmeric and lemongrass. Seemingly pungent initially, the dish very quickly became something we looked forward to during our tea stops while travelling through the country.
---
6) Tea Leaf Salad (Lephet Thote)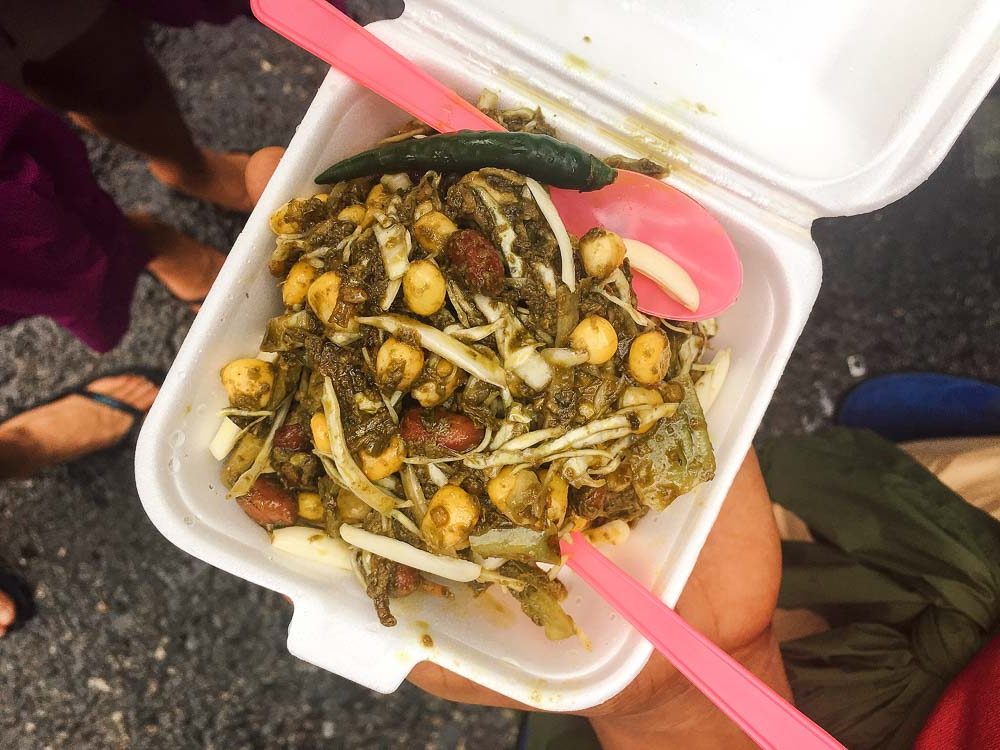 Another signature Burmese dish is their pickled tea leaves — usually used in teas or served as a salad. As a salad, it's base of Pennywort leaves — slightly bitter but balances out nicely with the salad sauce — mixed in with diced tomatoes, cabbage and nuts, tossed in a mildly sweet sauce and topped with a squeeze of lime. It makes for a refreshing midday snack or as a starter that opens up your appetite for the mains. The same street selling the pancakes and dosa sandwich also had a tea leaf store but the famous one is at the Shwe Shan Lay restaurant on Latha street (between street 20 and 21st).
---
7) Fried Chickpea Tofu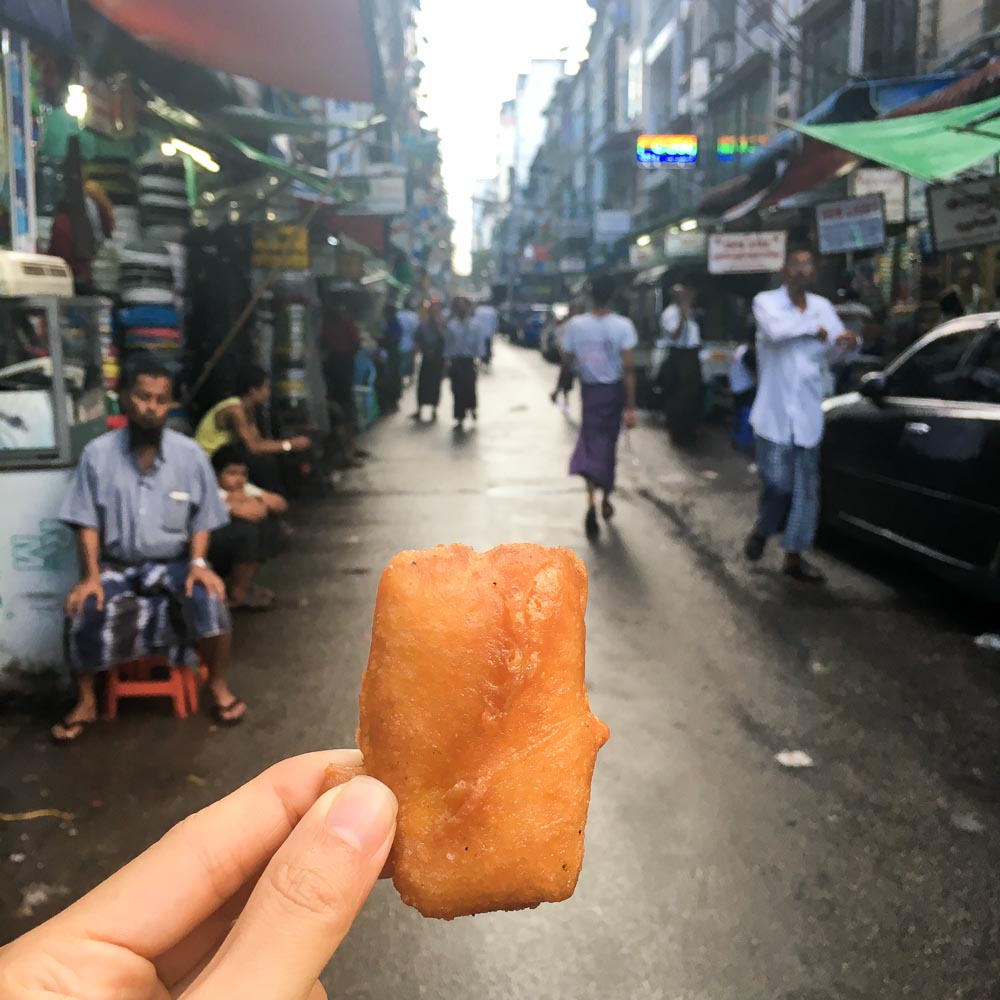 If you realise by now, the Burmese really love their chickpeas and it's no surprise why. You can find it in batters, in soups and even as a fried finger snack. We found this along Anawrahta road between 32nd street – Latha street (where the tea leaf restaurant's at), selling a variety of other fried snacks like the familiar goreng pisang (fried banana) which I personally loved because of the bananas — just the right balance between fibrous and starchy.
---
8) Shan Noodles
Photo Credit: Saveur
If you love rice noodles but aren't a fan of the strong fish broth in the Mohinga, you might prefer a light rice noodle dish like the Shan noodle. Another staple in Myanmar, the noodles are tossed in a tomato and chicken paste with nuts and a tinge of turmeric.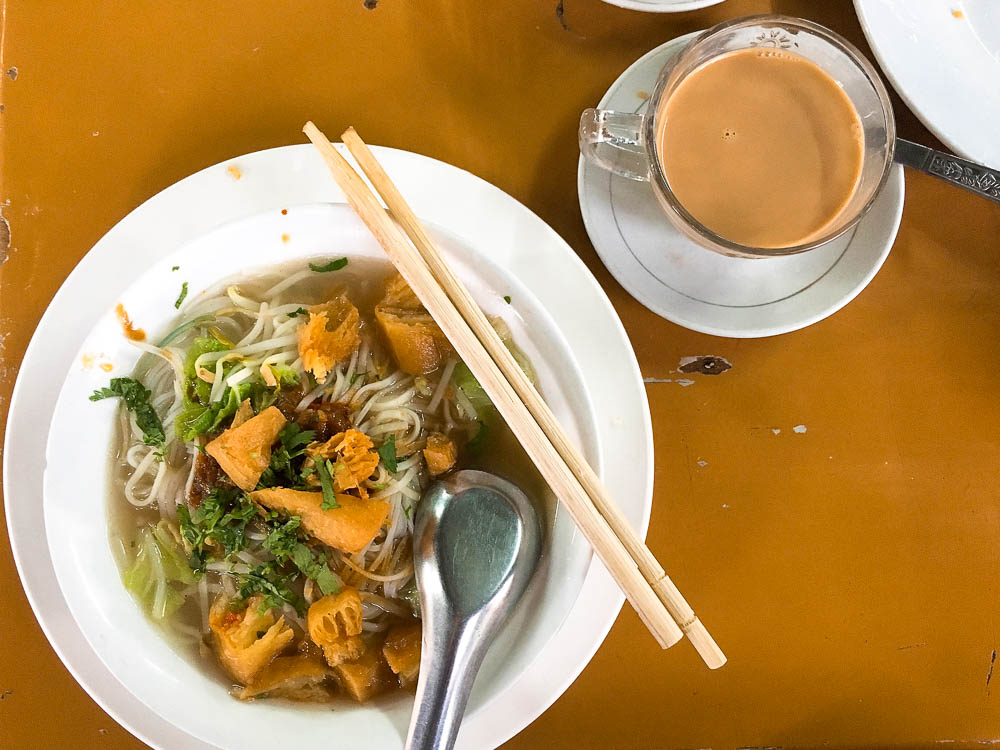 If you're a fan of noodles in soup, some places also serve it in the soup version which is light and goes really well with cut up pieces of chickpea tofu. Perfect dish to start the day in Myanmar with.
---
9) Rice and curry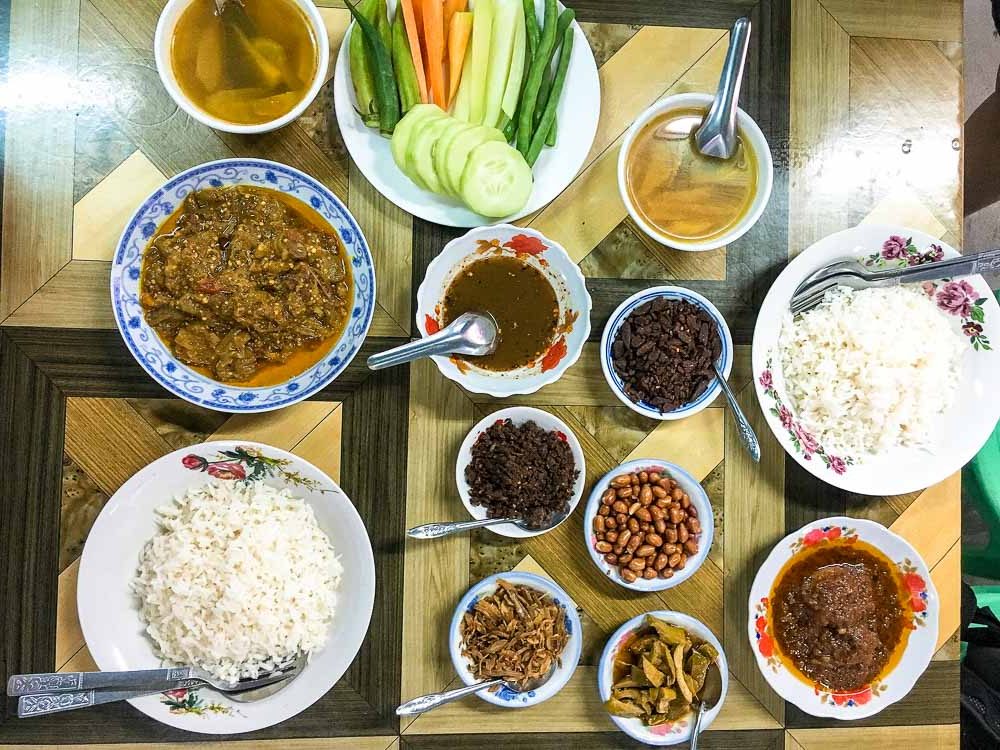 After trying the first 8 snacks above, we were bursting at the seams at this point. Although we didn't stop by a rice and curry place, I thought this classic was a worthy mention for this list.
A huge staple dish in Myanmar, you can get Burmese curries typically in chicken or pork (sometimes eggplant like a place we found in Mandalay – Lin Htet Restaurant) served with 4-6 small side dishes to go with a plate of rice. These curries, unlike their Southeast Asian counterparts, are not quite as spicy and great even for those who aren't a fan of spicy food. Despite not dropping by any on the tour, the Daw Saw Ee restaurant found on the 29th street was highly recommended by the guides.
If you love authentic local experiences but aren't too sure where to go, sometimes the next best bet is to let a local guide show you around the little nooks and crannies in the streets. We booked our street snack tour through Klook — a fuss-free online platform where you can pick your dates, make payment online and have everything taken care of.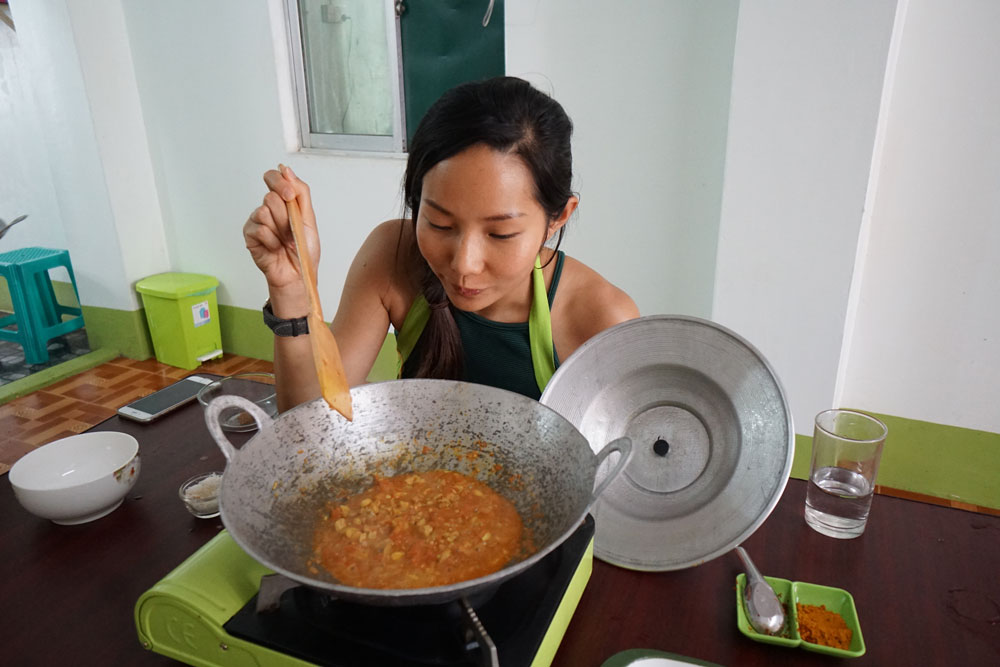 For those who prefer learning about new cultures by joining an authentic Burmese cooking class, check out our experience in the 2 week itinerary guide.
For first time users, there's even a S$5 discount when you use the promo code <TTIKLOOK> on your mobile app. Simply click Promotions and enter the code to enjoy the discount off your first booking!
This post was brought to you by Klook.
---
---